Have you thought about what you need to spend a truly memorable wedding day?
We searched and found 20 top tips from couples and present them to you here!1. Take your time
The sooner you start the preparations, the better. Book your vendors early: your wedding photographer, your wedding dress, the venue for your ceremony and reception, your music, your invitations, and everything related to your marriage. You'll be much more relaxed as you approach the big day!2. Be present in every moment
On your wedding day, soak up every moment, enjoy the love that the presence of relatives and friends gives you.3. Do not exaggerate with perfection
This is an expression of your personality, but it won't mark you forever. In fact, the best times will be those you didn't plan for. Many couples have told us that their pre-wedding shoot was of the most memorable moments, because they realized that their wedding day has now come close. Stay flexible to accept even the most unexpected! And certainly listen to each other and do not insist on something that will appeal only to you.4. In the last days before the wedding, stop your preparations
Some brides sometimes in the middle of preparations get frustrated and anxious of the many errands and believe that time will run out. The day finally arrives, and always the universe conspires to make the marriage a success. Stop your preps 2-3 days before the wedding, and don't let yourself feel that you have not finished, because surely someone else, a relative or friend will automatically take over for you.

5. Share something personal with your guests
Some suggest a slideshow with old photos (if you do, do not put so many that will bore the world!). Others take the microphone and make speeches to please their guests. This is a very sweet and funny moment. Or you could share your favorite poem. Whatever the issue, the more personal, the better and for the wedding video or film and photos, you will have an extra item to recount your unique story.

6. Try not to worry (even if it seems impossible)
Trust your wedding professionals, the photographer, the florist, the DJ that will do the job properly. And once you start the day, just let it go it alone. For everything there is always a solution.

7. Accept that you can not please everyone
If you want people to leave your wedding with the best impressions, put first the things that are important to you and do not try to settle for solutions that you think are "right". If it is a priority for you to party with your friends at the beach, do it. If your guests feel like you enjoyed your day, they will enjoy themselves, too. It is your day, make it personal.

8. Remember that the focus of all decisions is the couple
You will receive many, usually well-meaning advice from friends and family for your wedding day. It is very easy to divide your opinions. But do not forget that marriage is a celebration of your love and your future together. So rely on your instincts for what will make you both happy. Remind one another about what is really important for both of you.

9. Celebrate your love
The most important feeling that you will acquire from your wedding day is the love you share and the love you receive from your guests. Marriage is not about perfectionism. So celebrate with your favorite people.

10. Take things one at a time
It's easy to feel the pressure of planning a wedding. But once you choose the date and location of the wedding, everything else will be easier. Consider the most important details for you and organize them: the wedding photographer, the wedding dress, the floral decorations, food, music etc. Make a list and slowly mark things as completed. When the big day comes, everything will go very quickly anyway, so try to enjoy every moment. Even the preparations, because when you are done with the marriage you will miss even them.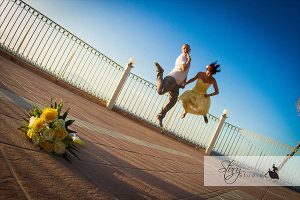 11. Take time to enjoy each other's company
During the preparations, one easily forgets to enjoy other moments that have nothing to do with the wedding preparation. Many couples, when they meet up during their busy day, talk about nothing else. But it is important to relax a bit together and not load your relationship with too many anxieties. After all, the day of your wedding is just one of many that you will live as a married couple.
12. Kiss as often as possible
Whatever stresses you until your wedding day, forget it now. There is no reason to worry anymore and aggravate the beautiful day. If any things go out of control, let them go. Enjoy every moment because it passes very quickly. And kiss as often as possible! Everything centres around you two.
13. Make your invitations and wedding favors for a good cause
There are many charities that offer invitations and favors for good causes, such as Unicef, the Make-A-Wish foundation, Children's Villages SOS, etc. You can also donate some of the money you are given from friends and relatives to a charity of your choice.
14. Eat!
At the reception, sit and eat with your family. We have heard from many couples that they did not have time to eat because they were arranging some detail or another or because they felt obliged to sit to talk with some friends. Eat first to get some strength and see them all after.
15. Do not forget that after the wedding you will be man and wife
What do we mean? That there will certainly be times of stress, misunderstandings, stress and fear before your wedding day. But in the end, do not forget that it is simply a nice event. What will keep you together, is that you will be man and wife.
16. Book a wedding planner
A good wedding coordinator will keep you more relaxed on your wedding day, quite possibly save you money because they buy the services of tried and tested wedding vendors at reduced prices, and you certainly won't have any surprises neither financially nor in terms of designing your day. The most important issue is that it will allow you more time with your family and friends.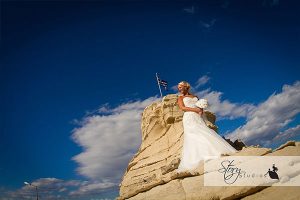 17. Appointments to wedding vendors need not be impersonal
Whether you see the ball room, or talk with the photographer of your wedding, or the florist, all these professionals will be happy to entertain your wedding day with the best of what they can offer you. The more you personally share with them, the better they will understand you and be able to help you. Pick them based on how well you can connect with them and how they make you feel rather than strictly based on financial decisions.
18. Do what you like
There is no need to do what people expect of you. You do not want cake? Don't cut one. Prefer a picnic instead of a reception in a hotel or restaurant? Do it.
19. Finish with a list of your preparations early
The sooner you sort out the small things of your wedding day, the better. The little things tend to become larger as the days approach. If you start the preparations a year early, be aware that it will be the shortest year of your life!
20. Watch your guests
At some point during the reception, take your spouse, take a step back and watch your guests from afar enjoying themselves and remember that they have come to you and to bless your marriage.
We hope you found our advice very helpful! Here's one more tip: Book your favorite photographer early!
If your dream is to have photos of the real, emotional moments of your wedding day with the most important people in your life, contact us now!